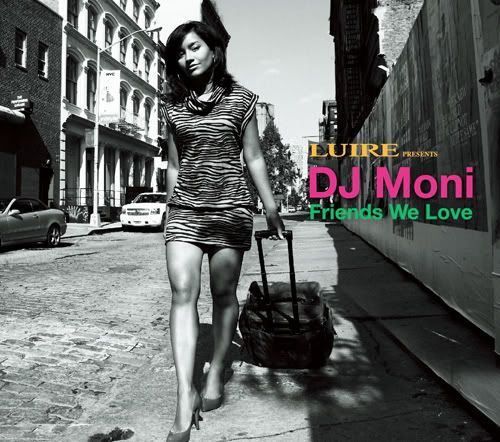 Hey, Im so excited to be a part if this compilation that
Dj Moni
put together for LUIRE Mag in Japan! It drops DEC 3rd! Check it out!
From Moni:
I take great pleasure in sharing this mixed compilation of some of my favorite hip hop and soul artists of the moment. It just so happens that most of them are also good friends, which makes the CD even more meaningful to me. I'd like to thank them for inspiring me with such great music. This CD would not be possible without the commitment of Luire, Base & Toy's Factory, most importantly, Yoshihisa Goto and Mari Senju. Thanks to all of you and your staff. Many thanks to my family, Mami, Papi, Mau & Nene for all your love. Gratitude to my crews, Ubiquita, Friends We Love, Giant Step, Brownswood, In Joy and colleagues Gilles Peterson, Jonathan Rudnick, Maurice Bernstein, Claudia Cuseta, MdCL, Michael Adasko, Fiona Bloom, Gerard Mitchell, Jose James, Mike Vargas and a special nod to OP! Thanks to Heather Sommerfield & Johnny Vicari for making the photos happen and to Probe dms for the last minute studio session. From New York to Tokyo, to my great friends who are always there to listen, laugh and enjoy life - I love you & you know who you are!
Can't wait to go dancing and celebrate!!
Nicolay & Kay ft. Oh No & The Luv Bugz - Tight Eyes
Probe dms ft. Sophia Lauren - Off and On Love
Hezekiah ft. Bilal - Looking Up (NeoSoul Disco Mix)
Waajeed ft. Coultrain - So Fine
Sarah White - Hiding Blind
Asen James - Know Me Well
Little Dragon - Wink
Dhundee - Season
Ovasoul7 ft. Devi Soleil - Feels Like Home
Sotu the Traveller & Aîscha - What's Going On
GAEA ft. TK Wonder - Fantasy World
Erik Rico - So Much Greater
Bonus Track
Zaki Ibrahim - Grow Again
Thanks
Moni
and LUIRE and Toy Factory for making this happen!
Make sure to check out
FRIENDS WE LOVE
.....