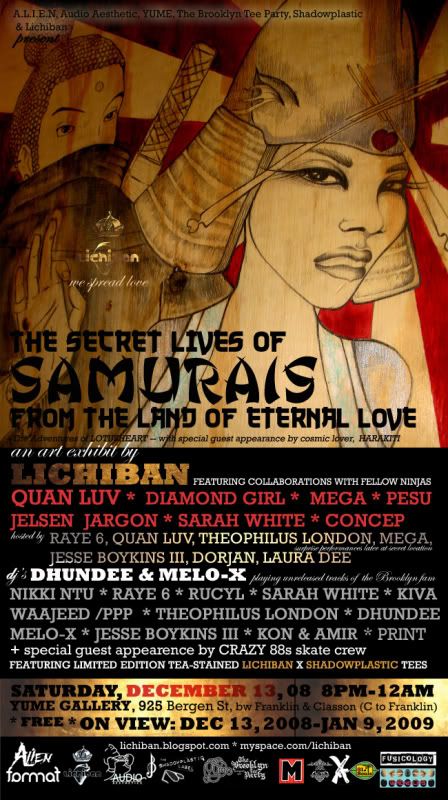 My girl has worked REALLY hard on this show, so be sure to come support!! Dhundee will be playing some of my tracks too!!
Peace and love/////////
YUME GALLERY * 925 Bergen St, bw. Franklin & Classon (C to Franklin)
13 December, 2008 8pm-12am
ON VIEW: December 13, 2008 – January 9, 2008 FREE ADMISSION
A. L. I.E.N. , Audio Aesthetics, YUME, the Brooklyn Tee Party, Shadowplastic & Lichiban present
"THE SECRET LIVES OF SAMURAIS FROM THE LAND OF ETERNAL LOVE"
"The Adventures of LOTUSHEART"
with a special guest appearance by cosmic lover, HARAKITI
an art exhibit by
LICHIBAN
featuring collaborations with fellow ninjas
Quan Luv * Diamond Girl * Jelsen Jargon * Mega * Pesu * Sarah White * Concep
"The Buddha Dharma is nowhere remote. It is close to us, in our hearts. Suchness is nowhere external. If not within our bodies, where can it be found?"
- Secret Key to the Heart Sutra by Kukai, Founder of Japanese Shingon Buddhism
Meet shapeshifter LOTUSHEART and become part of her journey to discover the Hidden Flower guarded carefully by the Challenger. On her magical journey, she encounters new, as well as old friends such as HARAKITI, who help her to visualize the glowing blossom of the Flower.
"This show is the fruit of numerous all-night-till-the-sun-rise painting sessions of the last two months, many of them spent with fellow artists who labored with me, kept me inspired and helped me to sharpen my vision. Taking the Japanese samurai and ninja tradition as a visual reference, I have tried to illustrate a number of spiritual concepts I have been meditating on for years and place them in a dreamlike setting of love and chivalry. I also wanted to make this solo show into an opportunity to honor my friends -my Brooklyn fam- by inviting them to be part of this fantasy heartland of lovers and secret monk-warriors that we created as we were preparing for the show." Lichiban
HOSTED BY: RAYE 6, THEOPHILUS LONDON, JESSE BOYKINS III
QUAN LUV, MEGA, DORJAN & LAURA DEE
djs DHUNDEE & MELO-X
playing unreleased tracks of the Brooklyn fam (CONTINUE)
Nikki Ntu * Raye 6 * Rucyl * Sarah White* Dhundee * Theophilus London * Waajeed/PPP* Kon & Amir * Melo-X * Jesse Boykins III * Kiva * Print
Featuring limited edition tea-dyed LICHIBAN X SHADOWPLASTIC tees
+special guest appearance by CRAZY 88s skate crew
Supported by: A.L.I.E.N, Format Magazine , Audio Aesthetics, Shadowplastic, YUME, The Brooklyn Tee Party, Good Sex, WRONGLIPS, Fusicology, The Minority Report, Coup d'Etat BK, Old Soulz, Voodoo Ray, Sugarcuts Inc., Crazy 88s
lichiban.blogspot.com
myspace.com/lichiban
yumebyny.blogspot.com